---
The following trilogy of short films were produced and financed with the assistance of the Sydney University Union Cultural Grants Award Program, Film Society, and Broadcasting Services. They were made with the same principal crew and cast, with Richard Cartwright acting as the protagonist in each film.
Following completion of the single-channel linear narrative film trilogy, I moved into multi-channel non-linear VJ and audiovisual performances and installations. Audiovisual performances are generally not documented on this website, although examples are described in StilmS and Still Philm.
---
Tat Avam Asi (Kali Yuga) [v1] (2004)
v1 of Tat Avam Asi (Kali Yuga) is an experimental film which charts an archetypal protagonist, 'Man', undergoing a journey of discovery of his relationship to the natural environment, and the State forces which fashion this relationship. Production locations included major Sydney train stations, moving peak-hour trains, busy public domains and multiple locations along the vertical face of a 200 metre escarpment in the Blue Mountains. It was designed to be engaged with through multiple encounters as the beginning remains incomprehensible until the multiple simultaneous interwoven non-linear strands coalesce at the finale and then make the cyclical narrative retrospectively comprehensible. End and beginning mirror and feed back into each other, making the interrelated audiovisual layers increasingly understandable through repetition.
Synaesthetic audiovisual relationships were constructed by replacing all the dialogue of the filmed characters' with a compositional collage of four voices in contrapuntal consonance and dissonance with one another and the images. The quartet comprises modular samples from my interviews with four collaborators: Ian Shoebridge, Richard Schweizer, Dave Watts and Philip Wood. Each was asked exactly the same questions in exactly the same order, so their responses could be compared and contrasted when superimposed over the images. It was designed to be experienced with images or audio or with both at the same time as the images and sounds function independently and interdependently of one another.
Having presented the film in numerous Australian short film festivals, I re-conceived the work to explore forms of presentation involving trammeled interactivity. This is described in the section on Tat Avam Asi (Kali Yuga) [v2].
Roles: Producer, Director, Writer, Editor, Cinematographer, Sound Designer, Lighting Designer, Costume Designer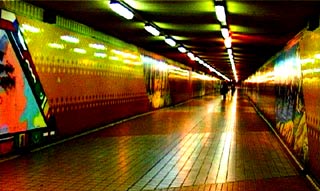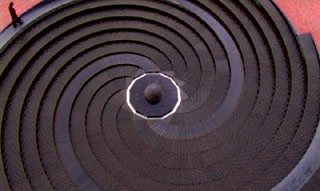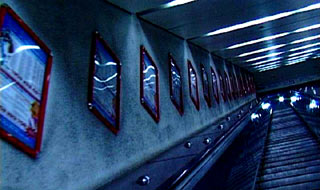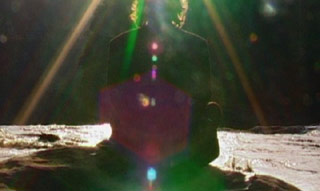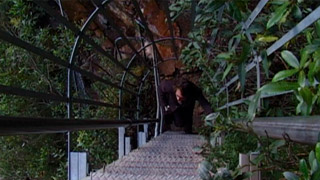 Still frames from scenes at Sydney Central Station, Bondi Junction Station, Darling Harbour and the Blue Mountains
---
Dawn of Ham (2001)
Dawn of Ham is the second film in the trilogy. It is a slapstick surrealistic elegy about the relationship between Ham and Enos: the first and second chimpanzees to travel into outer space. As part parody of the Dawn of Man section of 2001: A Space Odyssey and part natural history mockumentary, the chimpanzees were played by a cohort of forest dwelling humans dressed in business suits. It was filmed in forest gullies within a Sydney inner city park.
Roles: Producer, Director, Co-writer, Editor, Cinematographer, Music Producer, Sound Designer, Co-Composer, Music Co-Performer
---
Corkscrewed
(2001)
Corkscrewed is the first film in the trilogy. It is a mockumentary about the academic vs industrial agendas on the use of synthetic vs natural cork for bottling wine.
Roles: Producer, Director, Co-writer, Editor, Cinematographer, Music Producer, Sound Designer, Co-Composer, Music Co-Performer
---