---
The three interactive installations Tat Avam Asi (Kali Yuga), Emergence and 3forthree formed the focus of the Practice Based Research for my PhD. Each was iteratively developed and staged in diverse settings (including performance studios, theatres, outdoor public performance spaces, galleries, cinemas and festivals). The difference in the form each project takes, chronologically going from non-linear single channel Media Art, to multi-channel semi-immersive performative-installation and to full scale multi-channel immersive installation, arose from each being a project-specific investigation into evoking environmental responsibility in different forms of Responsive Environments. This is detailed in the exegesis chapter on each artwork, which can be downloaded as a PDF by clicking on the following links: Tat Avam Asi (Kali Yuga), Emergence and 3forthree. The focus of subsequent interactive installations (ISEA Bright Future) and non-interactive installations (Facing Futures Free From Fear) are on environmental responsibility as it relates to climate change and ecological sustainability.
---
ISEA Bright Future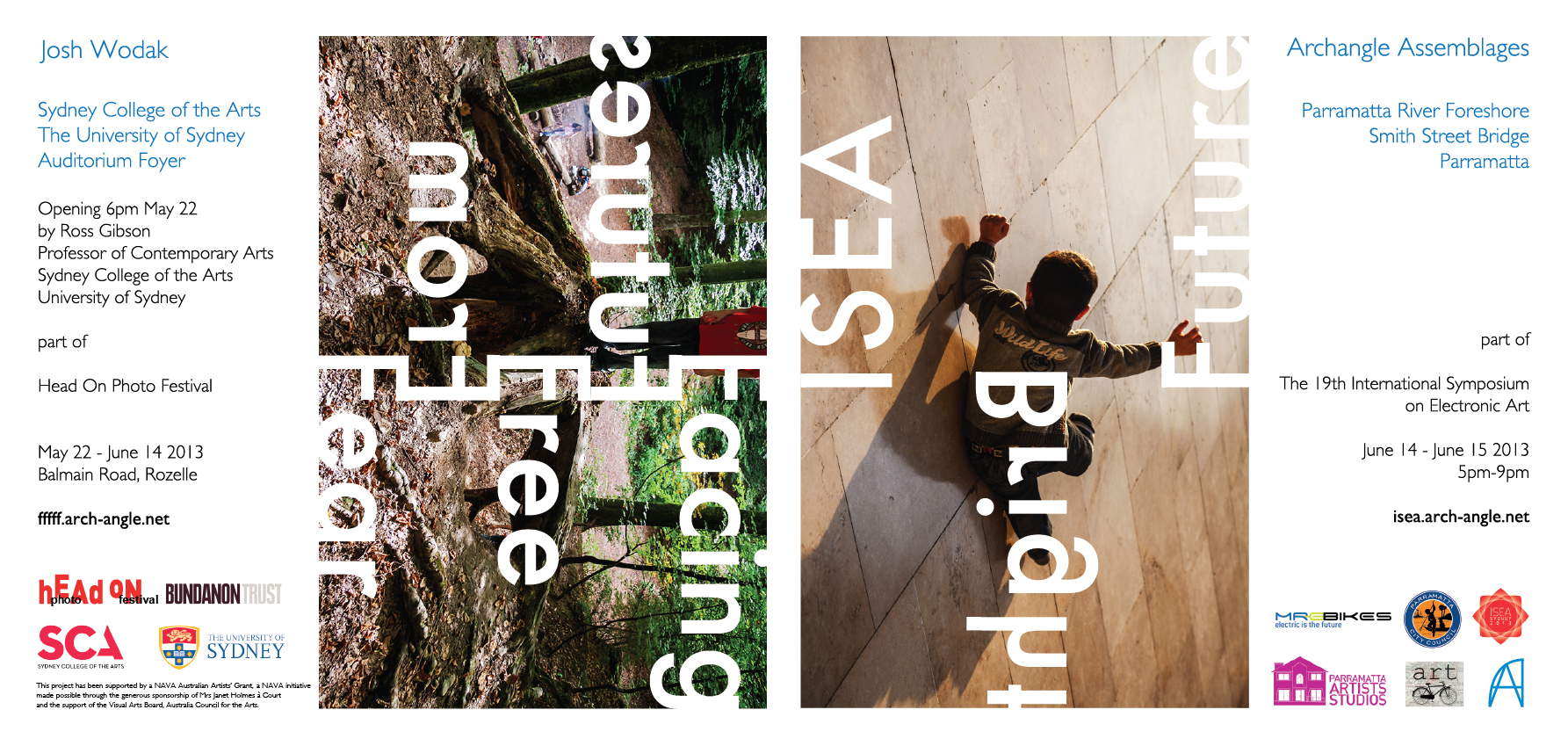 ISEA Bright Future is a kinetic sculpture about communal electricity generation and cooperation in biological organisms.

It uses custom 5 modified stationary bicycles on training stands in a semi-circle through which participants collaboratively control a 3D light and sound sculpture of pre-extinction and post-extinction evolutionary trajectories, visually modelling this and sonically modelling this. The interactive installation explores embodied energy and ecological sustainability - both as it is powered solely by participants' peddling and through biomimesis of bioluminescene, especially that of fireflies and how they synchronise their flashing. The title is pronounced "I See A Bright Future" as it explores the role of cooperation and negotiation in producing a future that will be dominated by how 'brightness' (ie lights/energy) is produced. ISEA Bright Future is a companion piece to Facing Futures Free From Fear, an audiovisual installation about speculative futures and defuturing in relation to climate change, which was exhibited at the same time in Sydney (May 22 - June 14 2013). an interactive audiovisual installation powered by participants' cycling,

ISEA Bright Future was commissioned by ISEA2013 Sydney, produced through Artist Residencies at SCANZ: 3rd Nature at Parramatta Artist Studios, and supported by Parramatta City Council, Mr E Bikes and ARTcycle.

Credits:

Josh Wodak - Concept, Artistic Director, Lighting Design, Sound Design, Production Manager
Rohan Story - Electrical Engineer, Programmer, Bicycle Generator Designer, Fabricator
Carli Leimbach - Creative Producer
Greer Allen - Associate Producer
Grant Moxom - Interaction Incubator, Production Assistant
Andrew Hornblow - Consultant Electrical Engineer and Programmer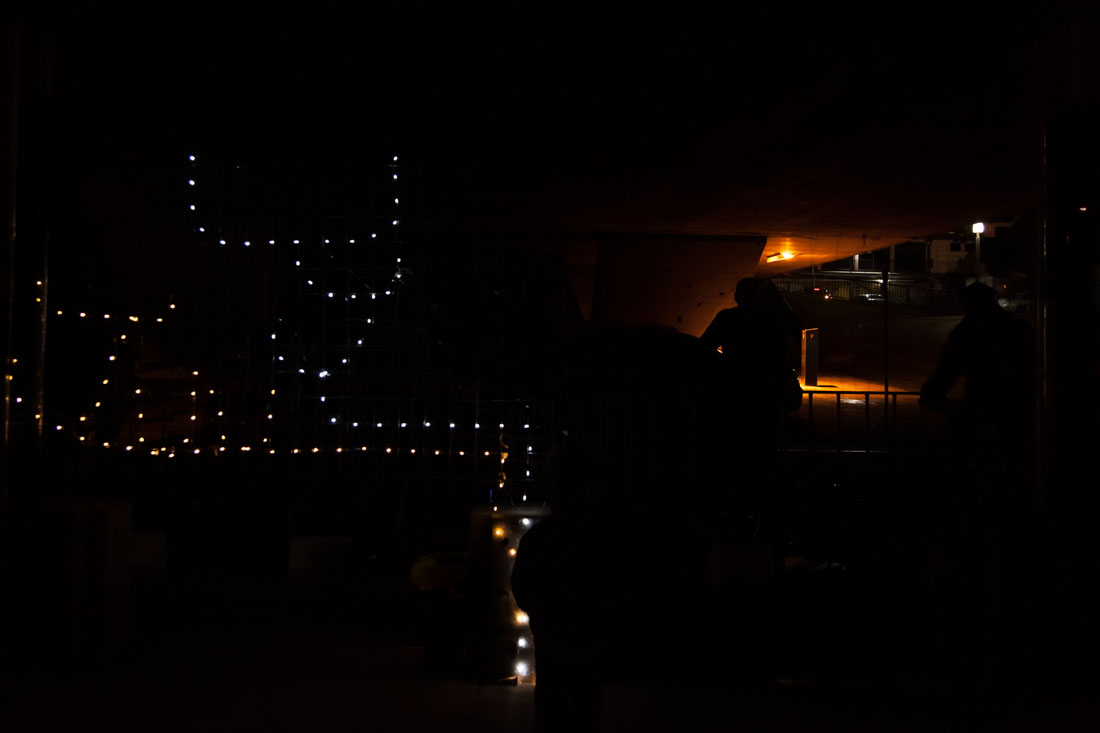 Participant #1 and Participant #1 in sync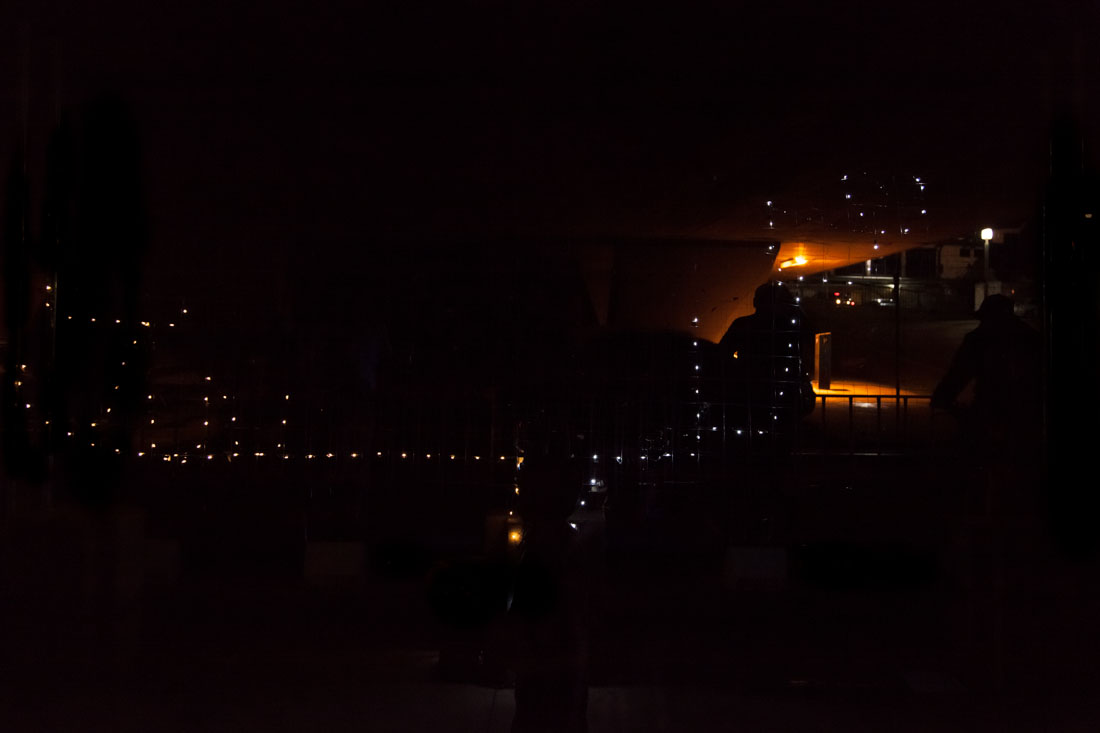 Participant #1 and Participant #5 in sync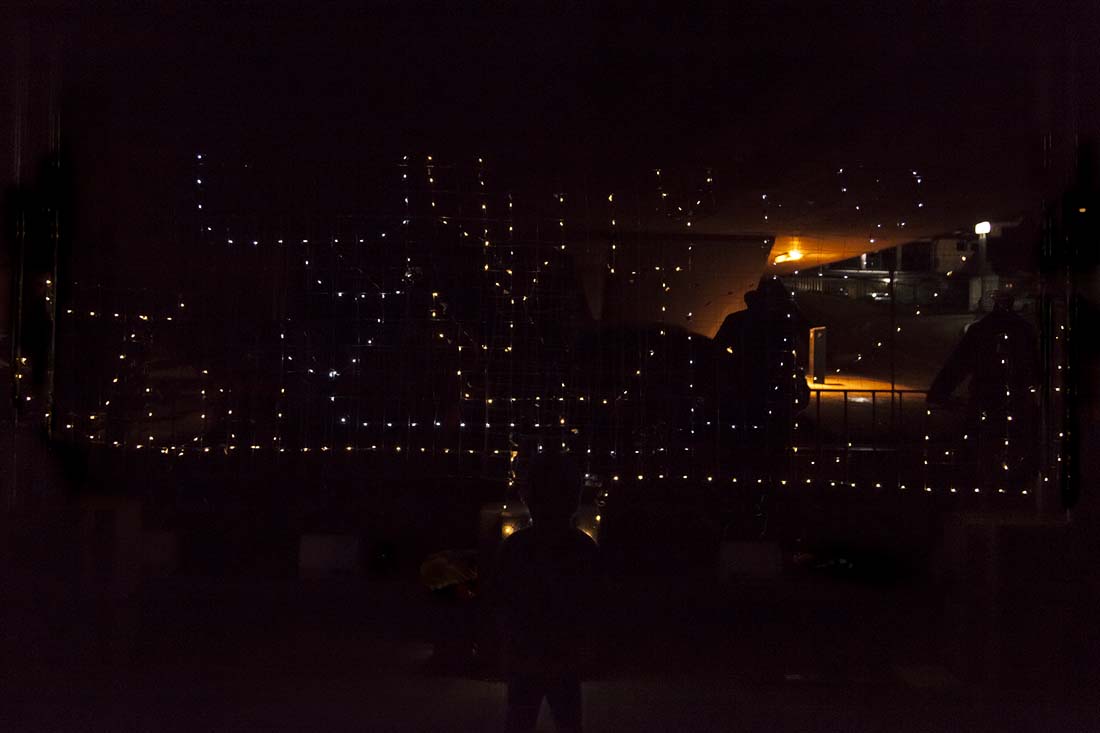 All five participants in sync
---

Tat Avam Asi (Kali Yuga) [v2] (2008)
Tat Avam Asi (Kali Yuga) v2 was a re-working of v1 (a linear non-interactive film) as a non-linear interactive media work. This was to present the work on a continual cycle, in line with the non-linear cyclical narrative, and to interface the metaphorical interactivity between the quartet of voices in v1, with trammeled interactivity so participants could influence the interior conversations of the work.
v2 in the Dorkbot CBR group exhibition at Canberra Contemporary Art Space in 2008 presented the work on a continual cycle, and used a stereo amplifier with separate rotation sensors for accentuating or muting left and right audio channels, with program notes to explain the rationale for participants to alter the sound field. Controlling the stereo balance between left and right-channels was done by adjusting the amplifier rotation sensors, to mute and/or amplify particular voices (like tuning a radio). Not interacting resulted in receiving all voices simultaneously, while interacting allows for the extremes of only left or only right channel voices or gradated intermediary positions whereby participants were subject to both in varying degrees. As the interviewees' conversations are in counterpoint, this encouraged actively modifying the balance of power between voices, to mute and/or accentuate different voices in response to the silent visual narrative on screen at the time.
This exhibition was reviewed in Issue 89 of RealTime Arts.
---
Emergence [v1-v3] (2004-7)
Emergence was a large-scale three year collaboration in disparate media and mediums of electronic theatre, performance art and pre-recorded multi-channel cinema integrated into a live participant-controlled Responsive Environment. Production involved five actors and over 15 people running the staging from behind-the-scenes, with another 25 people working on the production. I worked with the same key creatives that I collaborated with to make my films detailed on the films page. It was created over three iterations: v1 was staged three times over three nights in 2004 at the Balmain Hybrid Happenings Festival, v2 was staged three times over two nights in 2005 at Sydney Opera House Studio and v3 was staged 22 times over 20 nights in 2007 at Sydney Opera House Studio; Street Theatre, Canberra; and Arts House, North Melbourne Town Hall. Following the reception of the sold out v2 shows, we received a grant from Australia Council for the Arts to further develop the project into the full theatrical seasons that were staged as v3.
Emergence was set in 2028. It portrayed an Australian Government experiment in genetically engineered human evolution through a technologically mediated immersive environment. In the theatrical component of the experiment, which was run by the Department of Biological Sciences, attendees were invited as collective 'Parents' to shape the socio-cultural evolution of human values in the biologically engineered post-human Being, called 'Ram'. The Department of Biological Sciences consulted the attendees en masse as the last human generation before they finalised mass-scale production of their post-human Beings.
Audiences of 150-220 people experienced entire stagings together. They were chaperoned into Room Womb: an agora-like parliamentary chamber in which the stage floor became 'Ram's' 3D interior 'womb'. Here they interfaced with Screen Womb, a 2D exterior 'womb' represented on screen. Together, Room Womb and Screen Womb comprised an encircling cube of projection screens flush on all four walls, loudspeakers in each of the four corners, responsive multi-directional lighting, a 2x2 metre raised podium in the centre of the stage, a two metre puppet face suspended from the ceiling and fog machines. Each screen was a portal to a corresponding filmic room in sterilised Screen Womb where 'Ram' incubated while participants' votes genetically engineered him during voting sessions from Room Womb.
More information on the 2007 seasons is at the project website and reviews from Issue 82 of RealTime Arts and the following Australian newspapers: Sydney Morning Herald, August 13 2007, The Age, September 21 2007, and Brisbane Times, September 12 2007.
Roles for v3: Director of Interface and Interaction Design, Technical Director, AudioVisual Media System (AVMS) Designer, Concept and Script Advisor, Associate Producer of the Canberra season
Roles for v2: Interface Designer, Technical Director, Multimedia Coordinator, AVMS Programmer, Lead AudioVisual Operator, Concept and Script Advisor
Roles for v1: Multimedia Coordinator, AudioVisual Operator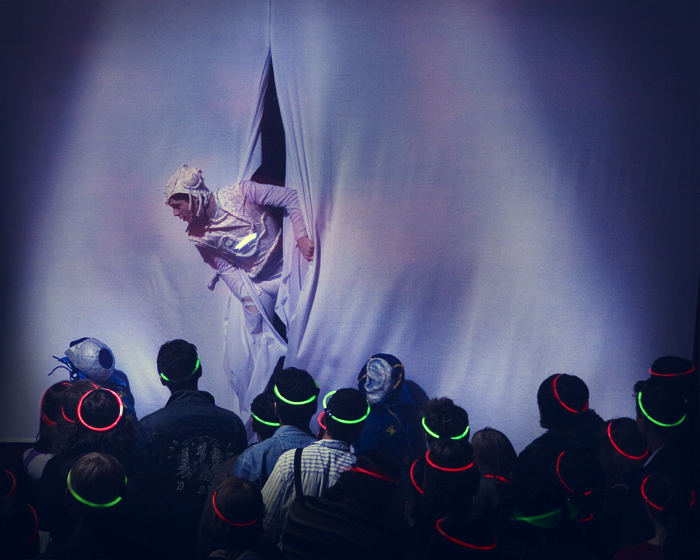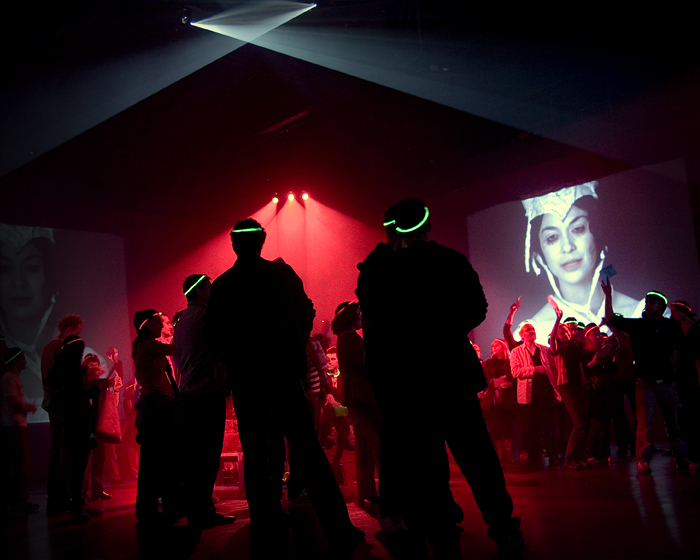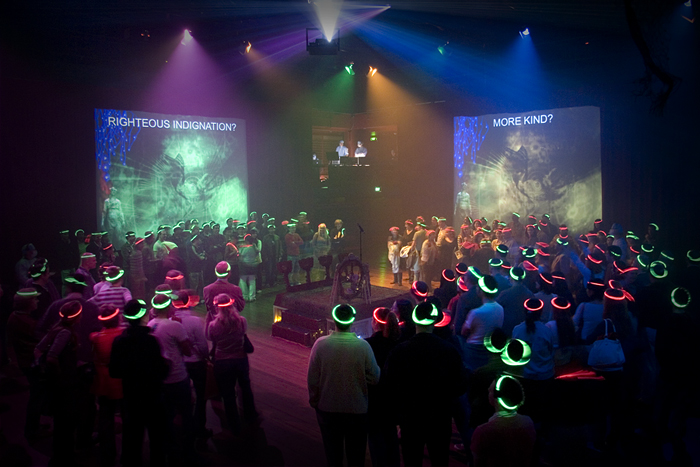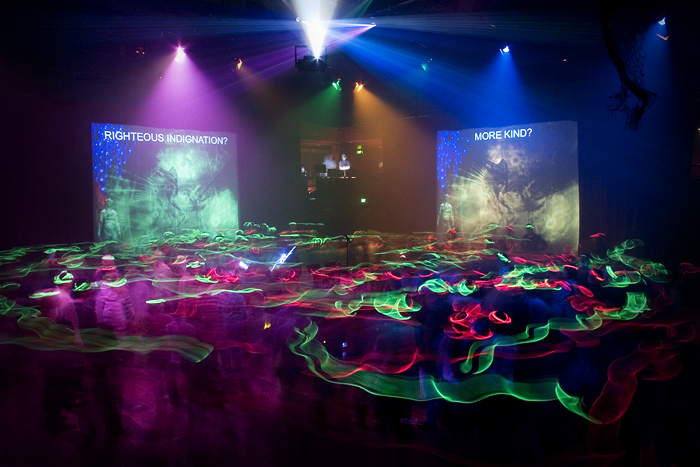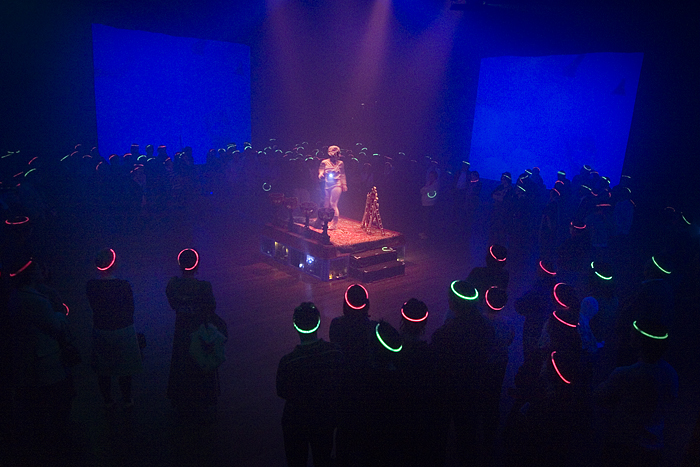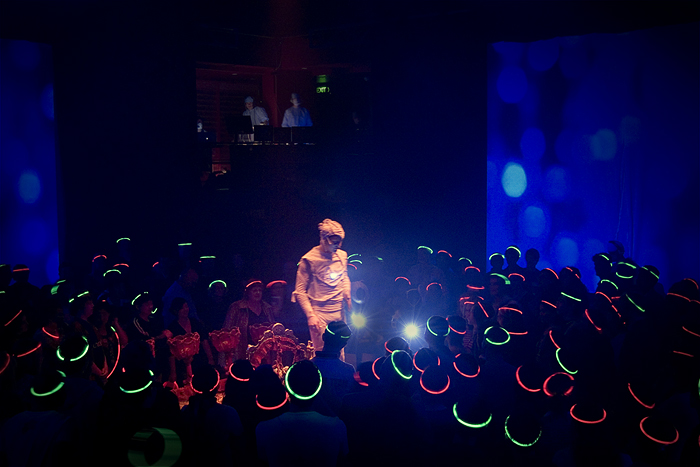 Stagings from The Sydney Opera House Studio, Canberra Street Theatre, and Melbourne Arts House seasons in 2007.
Photographs by Jess Klingelfuss.
---
3forthree [v1-v3] (2004-5) A Trio of Triple Triptychs:
3 stilms, each in 3x3 sections, 3 slide projectors with 3x3 canisters,
3 screens, 3 amplifiers, 3 loudspeakers for 3x3 spoken words,
3 mediums: image, location sound + speech
3forthree were semi-immersive interactive installations designed to explore synthetic sociality/coerced cooperation between collectives of volunteer participants who controlled the real-time behaviours of data sets of pre-generated and live-generated audiovisual media. Each involved three side-by-side 35mm slide projectors, with a live soundscape of environmental/location sounds, live processing of the amplified slide projectors, and a collage composition of a triplet of spoken words, which together formed a 'Stilm', being a hybrid between stills and films.
Operation of the amplified slide projectors was offered to three volunteer participants from each audience (inviting them to become co-performers). In live response to their co-created image combinations, I provided a computer-processed soundscape in consonance and/or dissonance with the way they perfomatively presented the projected images. All sound sources were mixed by another volunteer participant from the audience, who could shape the balance of the soundscape in tune with their own response to the projected images, as every amplified slide change was processed through their live Digital Signal Processing, to create audio rhythms which sprang from the visual rhythms.
The three separate works that formed 3forthree are Stilm I, Stilm II and Stilm III. The visual content was 35mm slides I shot over 10 months in India, and a further 6 months in India doing preparatory fieldwork for my then PhD topic in Visual Anthropology. Pre-recorded audio content were principally non-language based location sounds I recorded in India and samples from the film Forest of Bliss, supplemented by samples from various albums and films and excerpts of my instrumental compositions.
3forthree was developed over three iterations of v1, v2, and v3. Iterations workshopped interaction modalities appropriate to the different performance venues. 3forthree was staged 19 times in diverse modalities at: The Magic Theatre, Sydney (January and March 2004), Australian National University Centre for Cross-Cultural Research (July and October 2004), Australian National University School of Art (October 2004), and Balmain Hybrid Happenings Festival (November 2004).
Stilm I: A Day in the Life of the City of Death
A Day in the Life of the City of Death depicts the omnipresence of death in daily life in the most sacred Hindu pilgrimage city of Banaras, in North India. The soundscape samples the experimental ethnographic film Forest of Bliss, which is about death and regeneration in Banaras, and which was the subject of my BA (Honours) thesis in 2002. Through the interweaving non-linear audiovisual narratives of 'a day in the life', Stilm I explores interrelationships between binary oppositions, such as creation-destruction, conservation-development, sacred-profane and idealist-materialist perspectives on the interplay between life-death.
Stilm II: Down to Earth Up in the Himalayas
Down to Earth Up in the Himalayas concerned my then current PhD project on pilgrimage amidst rural industrialisation in the revered Himalayan landscape around the source of the Ganga. The three sections each addressed the following themes:
Paradoxes of Pilgrimage / People or Place
Power of Place / Power over People
Problems of Progress / Purity or Pollution

Stilm I and Stilm II are culturally, thematically and geographically interconnected as both concern life in and around the same river (the Ganga). Stilm II develops further the Stilm I exploration of problematic human relationships to the natural environment of the Ganga at its Himalayan source and en route to the Gangetic Delta.
Stilm III: ABACADABA (AKA grin reepercussions)
ABACADABA (AKA grin reepercussions) concerns the grim repercussions of humans upon the natural environment and the theme of the 'grim reeper' as death and regeneration which Stilm I and Stilm II explicitly depict. These themes are central to all StilmS, but are especially prominent in Stilm III. There are no people, signs or animals in Stilm III. It represents passage through a ghost world that oscillates between not-so-built natural environments and not-so-natural built environments which are disclosed over progressive shifts back and forth between microscopic to macroscopic images. Humans' effects are shown, but depicting humans is restricted to the culturally specific relationships to the quotidian and natural environments depicted in Stilm I and Stilm II.
Roles for v1-v3: Director, Producer, Photographer, Editor, Sound Designer, Interface Designer, Performer

Installation Designs for screens, audio-visual equipment, participants and audience members for v3
---